7 Fun Ways for Dog Dads to Celebrate Father's Day
Father's Day is all about celebrating and saying thank you to the amazing dads out there, including dog dads!
With Father's Day approaching (on June the 18th – don't fur-get), it's the pawfect time to plan fun Father's Day activities for dog dads.
Whether you're a dog dad, your partner is a dog pawrent, or you know someone who's pawsome at caring for their four-pawed fur child, here are some great ways for dog dads to celebrate Father's Day!
1. Enjoy breakfast together
You've probably heard of dog-friendly recipes like pupcakes and brownies, but what about rustling up something tasty for yourself and your furry friend for breakfast? It's the pawfect way to set you up for the rest of your fun-filled day together.
Spoil your dog with easy-to-make dog pancakes or go all out with a spinach and egg frittata or egg muffin cups that you can both tuck into.
Plus, if you want to make mornings even more tail-waggingly enjoyable (or less "ruff"), then a custom dog mug is a brew-illiant choice for dog dads. There's nothing like sipping a cuppa from your very own dog mug, personalized with your furry friend's face to make you smile every day.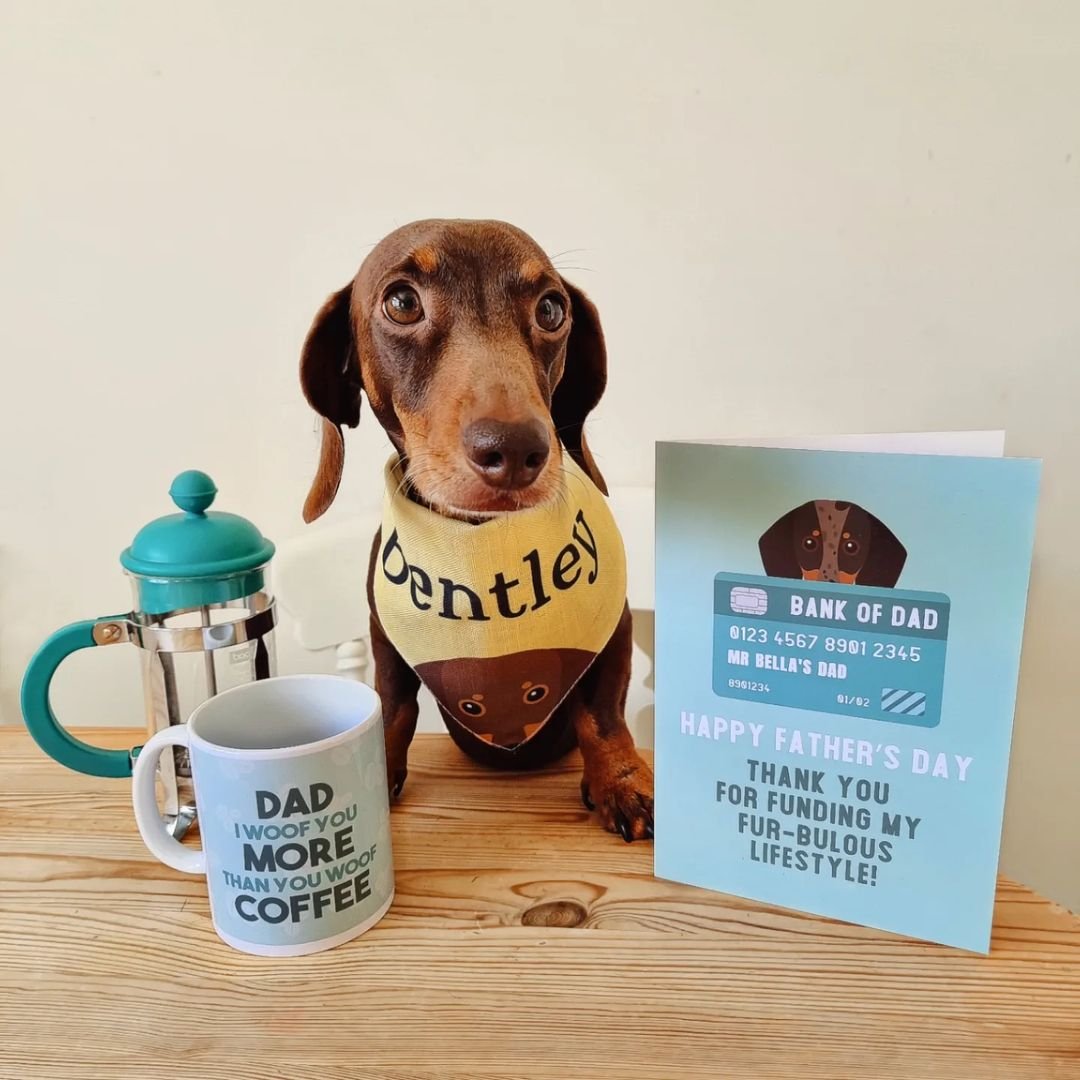 2. Capture the day with a photoshoot
Whether you're celebrating your first, third, or 12th Father's Day as a dog dad, it's always lovely to commemorate the special occasion by taking a few photos together!
Take some pawgeous photos of your dog as well as selfies together and for inspiration, check out our helpful tips on taking better dog photos.
You could even dress up for the occasion, twin with each other by wearing matching clothes or accessories, or use a few props for added fun.
Once you've taken lots of photos, you can bring them to life and show off your best bud with photo gifts! From beautiful home fur-nishings like comfy pillows to cozy blankets, we've got you covered.
3. Create some pawsome art together
Do you ever look at your dog's little toe beans and think about how mutterly adorable they are? Well, how about capturing that cuteness with some unique paw print art? You could even do this activity each Father's Day and compare your pup's paw prints over the years.
All you need is:
Your dog (of course!)

Thick paper

Non-toxic washable paints (or paints that are specifically pet-friendly)

A paintbrush
Directions
Using the paintbrush, carefully paint your dog's paw pad. Your dog may be ticklish, so it's best to do this outdoors or put down some old newspapers or a sheet in case of paint splashes!

Gently press your dog's painted paw onto the paper. Press and hold for a couple of seconds, then lift the paw straight up to avoid smudging.

Let the paw print dry and, in the meantime, wash your pup's paw in warm, soapy water and towel dry.

Once the paw print is dry, you can add details like your dog's name and age.
4. Take the road less travelled
Do you tend to go on the same walks with your dog? To avoid your dog getting bored of their usual route and to celebrate the furbulous occasion of Father's Day, it's the pawfect excuse to mix things up and head out for an adventure somewhere new.
Your dog will be over-the-moon to discover new sights and sniff exciting, unfamiliar scents, not to mention having this joyful experience and spending quality time with their best bud… You!
And, what better way could there be to finish your walk than by filling your bellies? Bring a picnic with you or head to a dog-friendly restaurant for a well-deserved Father's Day lunch!
5. Donate to dogs in need
As a dedicated dog dad, we know that you have an abundance of love for your furry friend. If you'd like to share some of that love with pooches in need, then Father's Day is a wonderful time to reach out and support dog charities such as Morris Animal Foundation or American Kennel Club Canine Health Foundation. If you have any spare toys, bedding, or dog food, then local dog shelters will also be thrilled to receive your support.
6. Play disc golf
Do you love spending time with your dog outdoors? Do you like crazy golf? Does your dog have a thing for frisbees? If you said YES to all these things then you'll LOVE disc golf!
Most places allow dogs on their courses, providing you use good course etiquette and your pooch is well-behaved.
Alternatively, you could create your own disc golf course!
This is a great option if you have a garden or have access to a public field big enough to play on.
Here's how to set up your own disc golf course:
7. Put your feet (and paws) up and have a movie night
After a busy day of breakfast in bed and fun-filled walkies, there's nothing like hitting the pause button and putting your feet up. After all, Father's Day is a good excuse to relax and take it easy, so fluff up your cushions, grab the remote and relax by binge-watching a TV series or film with your furry friend.
From 101 Dalmatians to Homeward Bound, Marley & Me to Bolt, there are loads of dog-themed films for you and your dog to enjoy curled up on the sofa. Don't fur-get the snacks too!
To all the dog dads out there, we hope you have a pawsome Father's Day!
Yappy.com is a personalized pet product shop for dog and cat lovers, simply select a breed and icon and add your pet's name to create a personalized shop just for you and your pet!